Ningbo JiweiMelt Mould Casting Co., Ltd.
Ningbo Jiwei Melt Mould Casting Co., Ltd. is a professional enterprise company which mainly producing low alloy and high wear-resistant materials parts with new-high technology when it been established in 1999.
The products from Jiwei are widely used in automobiles, railways, ships, construction machineries, mining machineries, etc. It provides the customers globalized with professional, safety, high-quality productions and also technical supports.

The annual capacity of Jiwei is around 12,000 tons, the parts mainly export to the United States,Canada, Australia, Japan and Europe. The company has been recognized by many globalized organizations.

Jiwei has more than 300 employees, 20 of them are working in the technical department, and three of them are senior engineers in casting experience over 30 years. In the laboratory, Jiwei equipped with a full set of advanced testing equipment. For the casting material inspection, it has Italian direct reading spectrometer and a large high-power microscope. For the mechanical property inspection, it has hydraulic universal testing machine WEB-600 and WEB-1000, low-temperature impact testing machine, Brinell and Rockwell hardness testing machines. For inspecting the defect of completed parts, it has magnetic detectors and ultrasonic flaw detector. And it has a CMM for inspecting the machined dimensions as well.

JiWei has been certified by the US NSF ISO9001: 2008, ISO / TS16949: 2009, ISO 1400:12004 and OHSAS 18001:2007.During the actual production, Jiwei always implements quality assurance system requirements, standardized management and quality control strictly. Moreover, Jiwei has associated of American Railroads AAR certification.

Human-oriented, Quality-first is Jiwei's company spirit, and the company will continuous improve and seek foe greater perfection. To achieve the objective of win-win between JiWei and customers, Jiwei will always has merchant cooperation with the organizations from both domestic and foreign countries.
Company establishment
Total number of employees
Company capacity
Sold to countries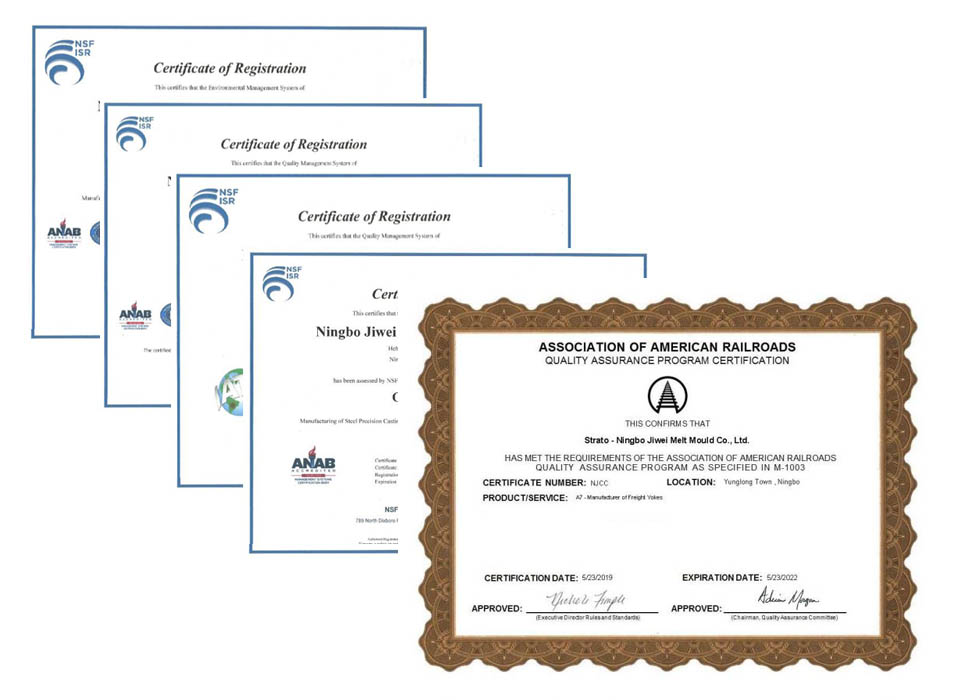 Automatic Shelling Pipeline
PrecoatedSand Production Line
Horizontal Machining Center
Vertical Machining Center
Human-oriented, Quality-first
Subscribe to our latest news, please leave your mobile phone number!
Copyright ? 2021 Ningbo Jiwei Melt Mould Castings Co., Ltd. All rights reserved.